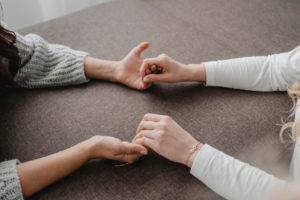 For hundreds of years, humans have sought out ways to get in touch with something beyond themselves. Though they've gone by many different names throughout history, mediums have been valued in cultures all across the world. Why? Because mediumship is invaluable in helping people find balance and peace in their life by inviting guidance from loved ones who have passed on.
What is a Medium?
In essence, you can consider a medium as a midpoint between two distinct places, the lands of the living and of those who have moved on. To be a medium is to act as the midway point, the connector, bridging the gap between two places to open a dialogue.
A medium functions as a mediator between the spirit world and the world of the living, acting as the conduit that allows a three-way dialogue between these two planes. In these scenarios, the conversation occurs between the medium, a spirit of some kind, and the recipient, otherwise known as a 'sitter.'
Different mediums specialize in different methods of mediumship, harnessing their gifts to allow sitters to connect with spirits. One of the more common methods of mediumship is clairvoyance, meaning clear seeing. This in particular is my specialty; I see pictures in my own mind or awareness. The spirit world will use my own "library" so they will use whatever you understand to have me say specific words.
Why Work with a Medium?
People work with mediums for a variety of reasons. Even those who aren't overly spiritual might try mediumship, simply to see, and these people are often surprised by what they discover.
Some of the benefits of working with me as your medium includes:
Help with grief after losing a loved one. For those struggling in the wake of a death of a loved one, connecting with them via a medium can be a great comfort. It can help to know that they haven't simply ceased to be, but instead now exist in a non-physical form. Even if you aren't able to have a full-on conversation with a spirit, the simple feeling of their presence tends to be a huge help in moving beyond grief and mourning.
Help connecting with spirituality or a higher power. Opening yourself up to a spiritual experience with a medium can be a powerful first step in connecting with some kind of higher power. Ongoing sessions with me can become the tool needed to enhance your spirituality and fearlessly carry on in the world with clarity and purpose.
Discovering new confidence in life. Discarding the idea that physical existence is all there is to life can make a huge difference in your confidence level. Discovering that there is a further reach of the human experience than you initially thought can be a powerful paradigm shift, and allow you to act in life with a newfound confidence.
How Do These Medium Services Work?
When you, as a sitter, work with me, the medium, I'll typically ask you as the sitter to put the intention out to the spirit world beforehand and ask the spirit you are hoping to connect with to join us. Perhaps it's a loved one who passed away, such as a friend, a family member, or a partner. Perhaps it's someone you'd never met but you'd like to connect with, like an ancestor. Whatever the case, identifying this person is the first step in beginning your discussion. There is no guarantee who will show up but intention is very powerful.
Once I start to make that connection with the spirit communicator the dialogue will begin. It's hard to make general statements about this process, as it varies drastically from sitter to sitter. You will always have evidence from the spirit communicator which is usually followed by a message or guidance. Sometimes the result is something more general—the introduction of an emotion, a sudden arrival of new, unexplained knowledge, or perhaps just the comforting feeling of a familiar presence. Sometimes the results are more tangible. It could be a true conversation, or at least a few words from the other side. Whatever the case, the more you engage in these conversations, the more likely you will gain something from them, so long as your mind and heart remain open and receptive to these possibilities.
How to Get Started: Get in Touch with Me
If you're looking to connect with someone you've lost, gain new knowledge from a different plane of reality, or you're simply seeking a new avenue for self-confidence, clarity, and connection in your day-to-day life, consider getting started with my mediumship service.
I am a sensitive and skilled medium, and I am prepared to help you connect with those you may have lost, or perhaps never met. If you're still curious about the ins and outs of mediumship, or you're ready to book your first session, get in touch with me today.
Rates
$110.00 + tax per hour.
Contact me for more information or book an appointment