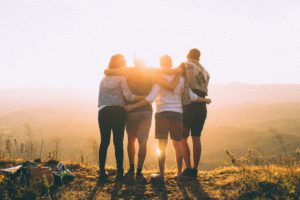 Humans are very social by nature. Even the most introverted or anti-social person needs on occasion to talk with other like-minded people.
It's too easy to fall into negative thinking patterns, especially if you're going about your journey on your own. However you feel about people, there are many others out there who do share your pain, your anxiety, and your fear, whatever it may be.
You don't have to be on your journey of healing by yourself if you don't want to. If you are feeling alone, then why not consider joining others—especially if you share a similar goal? It could be to lose weight, change negative thinking, or just feel better in your transformation knowing that, truly, you are not alone.
If this sounds ideal to you, then perhaps embarking on a group hypnosis program with me may be exactly what you're looking for.
Types of Group Hypnosis Programs Available
These are the group hypnosis sessions that I can gladly provide to both adults and children:
HypnoBirthing – The Mongan Method
Group Past Life Regressions
Stress/Anxiety
Anger Management
Sleep Issues
Confidence Building
Forgiveness
Changing Food Habits
And much more.
Stay tuned to my events calendar for the next group hypnosis session.
Location: #2300-2850 Shaughnessy Street, Port Coquitlam V3C 6K5
Contact me for more information or book an appointment