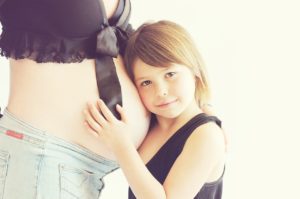 HypnoBirthing®-The Mongan Method is hypnotherapy specifically practiced and applied for any pregnant woman and expecting mother. Whether this is your very first time having a baby or you want to have a less stressful birth, you can relax and experience a renewed sense of well-being with natal hypnotherapy.
Using specific relaxation and concentration methods, HypnoBirthing®-The Mongan Method can help you have a very successful birth and cherish your very first moments with your new baby without worrying about the pain, stress, or need for anesthesia.
What is the Mongan Method?
Childbirth does not always have to be associated with pain. That is the purpose and drive behind the Mongan Method, created by Marie Mongan. It is a means to disassociate pain from childbirth and to remove the fear of birthing pain; giving birth is not meant to be fearful, but rather a natural expression of life. That is the message behind the Mongan Method.
Using an easy-to-understand guide, Erin Johnstone can help any expecting mother, whether new or experienced, look forward to their child's birth as opposed to dreading it. It's a very natural, anaesthetic-free means of giving birth for mothers who are concerned about their expected birth.
Book your lunch and learn today